Would you like to know if:
Your funds are the least expensive?

That great manager, who has performed so well, is still there?

You are getting all of the return you should for the amount of risk you're taking?

Your fund is better or worse than its peers for the last 1, 3 and 5 years?
These are but a few of the things we can tell you.

At Certified Financial Group, our Accredited Investment Fiduciary® (AIF®) designees are empowered with a proprietary fund scoring tool to provide you with an objective investment comparison. 
The fi360 Fiduciary Score® ranks more than 28,000 mutual funds and ETFs against their peers using nine distinct objective criteria.  This screening process creates an unbiased score and provides a basis to critically evaluate one's holdings while ensuring a high fiduciary standard of care is met.  
Submit your current mutual fund line up by clicking the link below.  We will provide you with the fi360 Fiduciary Score® for each fund to help you compare those investments against their peers to see how they rank.
The Score evaluates investments on eleven different objective criteria across a spectrum of quantitative data points to determine that a minimum fiduciary standard of care is being met.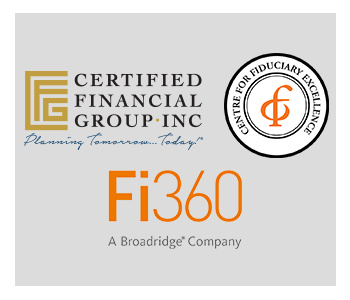 How Credible is The Scoring?
The Certified Financial Planner™ professionals at Certified Financial Group have more than 300 years of combined experience. Each is trained in all areas of financial planning and investment management.
Certified Advisory Corp. is a CEFEX (The Centre for Fiduciary Excellence) certified investment advisor registered with the Securities and Exchange Commission in Washington, D.C. *
The Foundation for Fiduciary Studies is a nonprofit organization that was established to develop and advance practice standards of care for investment fiduciaries, which includes trustees and investment committee members, as well as brokers, bankers, and investment advisors.
*SEC registration does not constitute endorsement by the Commission.